USB Power Switch for MESH GPIO tag
A module to control "ON/OFF" on USB using MESH GPIO tag. "ON/OFF" can be chosen on devices that operate by USB power supply. VOUT pin on MESH GPIO tag and USB 5 V output are linked together. When the output is turned "ON", the LED on the board will flash red. Before you start, please prepare a micro USB cable and USB separately. And also, please be aware that communication function on USB will not be available.
Please pay attention to the direction when you connect the GPIO tag.The pin numbers on tag and board should face the same way.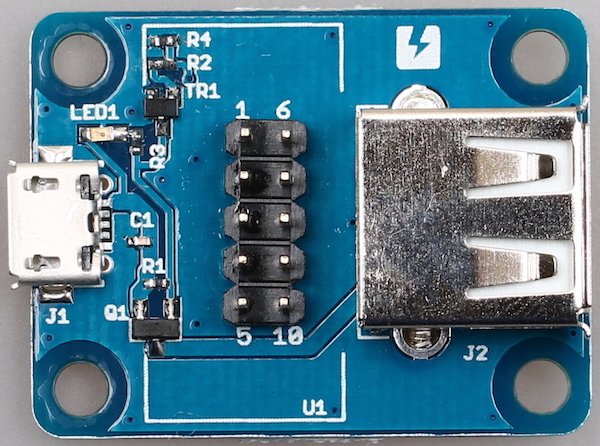 Specification
Input/ Output Voltage:DC 5 V
Maximum Output current:DC 1 A
USB Cable
Input side: micro USB Type-B
Output side: USB Type-A
MESH GPIO pin
VOUT(at default)
PWM(Can be switched by SJ1)
Pins can be switched by SJ1 on back of board. Please make sure that the power on the device you have chosen works with PWM pin before switching it.
Document
Instructions(Under construction)
Sample Recipe:MESH button having constant ON/OFF control over the USB operated fan.