PCA9624PW I2C 8ch LED driver board with 8 LEDs onboard
PCA9624PW 8ch I2C LED Controller Board is an I²C-bus controlled 8-bit LED driver board that uses the PCA 9624PW by NXP.
NRND: This IC is not Recommended for New Designs.
The individual PWM controller makes the brightness value of LEDs adjustable.
This board itself already has LEDs on, so 8 LEDs will blink just by connecting the I2C bus and sending a command. LEDs are linearly aligned with an even spacing.
For further information on how the controller works, please see manufacturer's official page, and PCA9624PW data sheet.
Features (General Functions of IC)
Supply voltage range: 3.3 V ~ 5.5 V.
Individual constant current LED port for 8 channels
Output enable function on all LED port
All ports have on/off and 8 bit resolution (256 steps) controlled by PWM
All ports have individual/ group controller
8 red color LEDs
Output peak current: 100mA
Signal pin for external drive
Interface: I2C
Programmable I2C address
Pattern on Pull-up resistor for I2C (resistor not included)
Cautions
About pin header


Please prepare the pin header by yourself and solder it depending on your purpose.

About Output enable function on LED port
PCA9624PW has an Output enable pin (OE) and is on pull-up mode at default. Therefore, please keep on connecting OE pin to GND and validate port output to start blinking actions.
About pull-up resistor for I2C
The pull-up resistor for I2C is not mounted at default. If you want to add it, solder chip resistor on R10 and R11 on back of board. (chip size: 1608)
About I2C address
The default address is 0 × C0 (1100 000X) due to solder jumper (A6 ~ A0). You will be able to change lower part of I2C address easily just by processing solder jumper (A2, A1, A0).
When changing address on upper part, you will need to process solder jumper (A4, A3) on surface and (A6, A5) on back. First, cut the pattern on jumper and then, connect it to VDD (1) or GND (0) with a cable.

Pin layout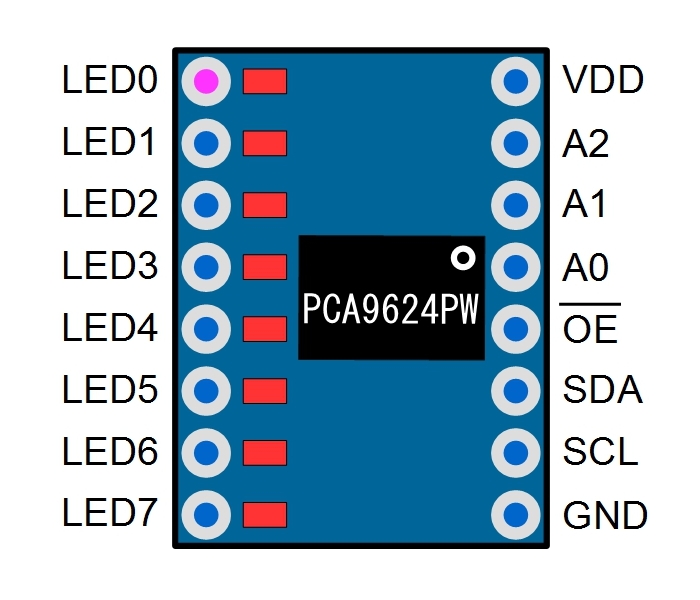 Surface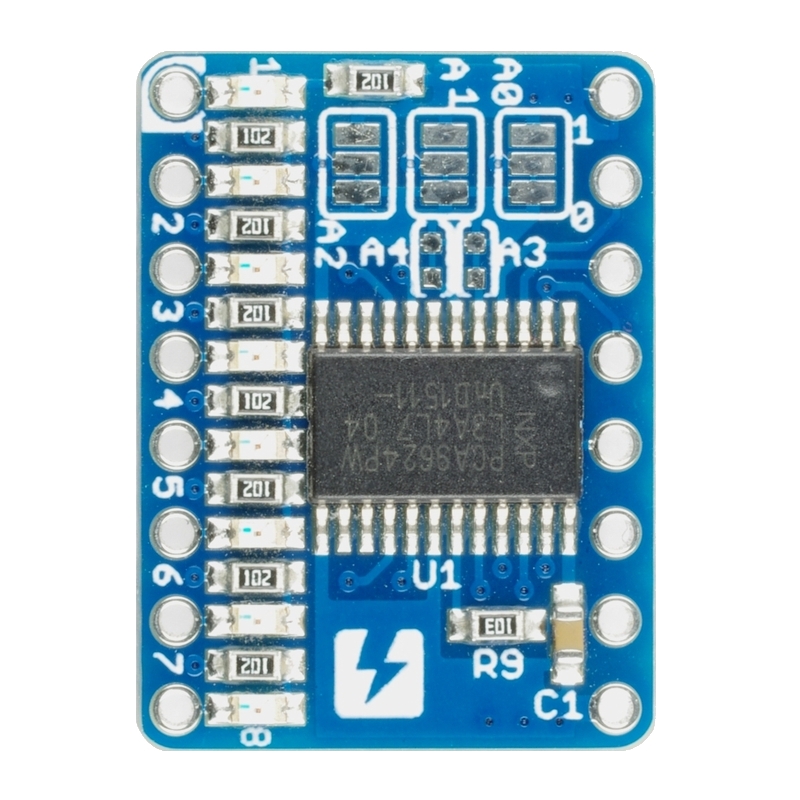 Back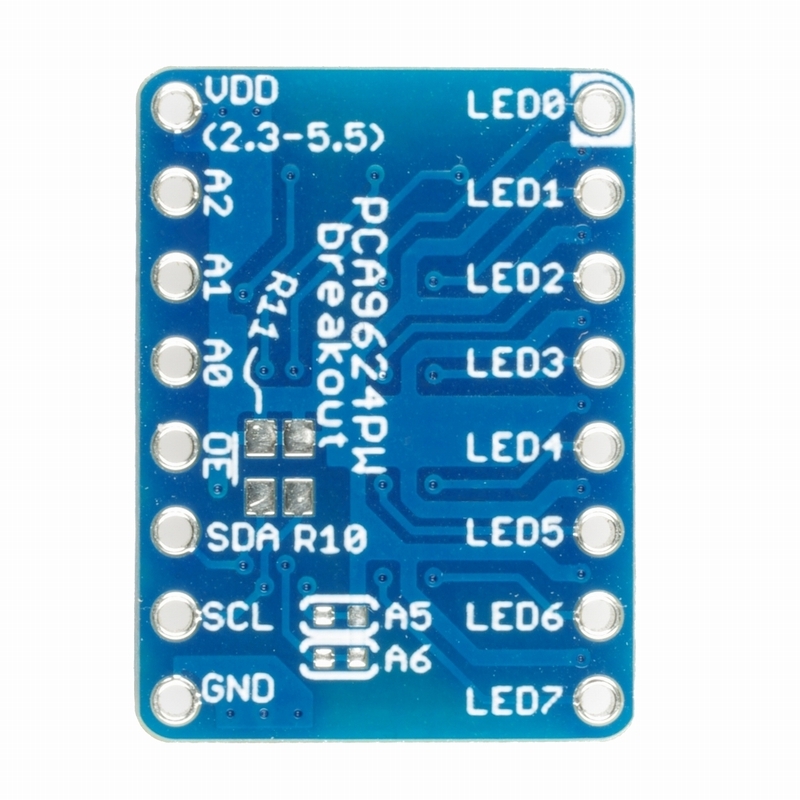 Application example
When you want to expand board to 16 LEDs by using two modules:
1) Prepare two modules
2) Process solder jumper on either module and change address to 0 × 82
3) Don't change anything on the other one and connect it to the same I2C address.
4)Access both to 0 × C0 and 0 × C2 from host and coordinate the movements.
Below is what you will actually see after this procedure. The 16 LEDs are linearly aligned looking like one module.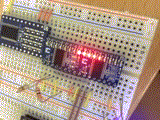 You will be able to make an even longer LED board by adding another address converted module. PCA9622DR is not connected to this demo, however if the address doesn't overlap, it can coexist.
Documents