TsuboLink-II for HRM1017 is a CMSIS-DAP debug adaptor used for programming and debugging the HRM1017 breakout.
In addition to the CMSIS-DAP debug adaptor feature, TsuboLink-II for HRM1017 can be used to program the HRM1017 breakout by drag-n-drop the HEX file generated by the mbed online compiler. The combination of the HRM1017 breakout and TsuboLink-II for HRM1017 works almost identical to the mbed HRM1017.As its name suggests, this product is designed only for programming HRM1017 module with drag-n-drop and not for other Nordic nRF51822 based modules.
Includes:
1 x TSUBOLink-II
1 x Jumper socket
1 x Ribbon cable
It can supply 3.3V by VTREF which is 1pin of SWD (CoreSight 10), if you short a jumper on PCB with a jumper socket.
Document:
---
From the top: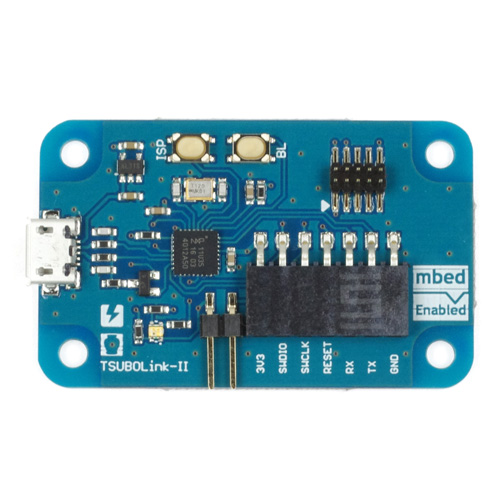 Related Product
Breakout board for the Hoshiden HRM1017, small Bluetooth Low Energy (BLE) module

Shipping Method:

EMS

Price:

20.00

USD

This item is retired.

The Switch Science mbed HRM1017 is FCC and Japan radio type approved Bluetooth low energy development board with the Nordic nRF51822 SoC. This board is also compatible with nRF51822-mKIT except the 32.768kHz crystal availability.

Shipping Method:

EMS

Price:

35.00

USD

This item is retired.

Shipping Method:

EMS

Price:

156.00

USD