AS-289R2 Thermal Printer Shield
Introduced by NADA ELECTRONICS, AS-289R2 Thermal Printer Shield is the most advanced two-inch (58 mm) thermal printer in the industry.
You can directly connect the thermal printer to your Arduino, ARM mbed, Raspberry Pi, and Gadget Renesas.
Its print speed is 25 mm/sec and effective printing area is 48 mm. The printer is also suitable for printing various types of bar code.
For printing, it takes more power than what USB can provide. Please use the harness included and connect the printer to AC adapter for power supply (above 5 V 3 A). The alternative way to supply power is by using the jumper pin on the printer, and you can provide 5 V from the printer to Arduino.
To find out how to change the thermal paper roll paper, run test printing, and to use HEX dump mode, please refer to Nada's FAQ page.
Features
Interface:
3.3 V or 5 V TTL level (switching at JP5)
9600 or 38400 bps (switching at JP6)
Serial or Serial2
8 Bit NonParity 1 Stop
supply voltage: 5 V±5%
Average Current: about 2 A
Resolution Ratio: 8 dots/mm (384 dots/line)
Effective printing area: 48 mm
Print speed: 25 mm/sec
Character types:
UTF-8
Alphanumeric, katakana: 160 types
JIS Kanji level1: 2965 types
JIS Kanji level2: 3388 types
non-Kanji: 524 types
Bar code: QR, JAN(13,8), 2of5(ITF), 2of7(NW7), 3of9(CODE39), UPC-A
Includes:
1 x Thermal Printer
1 x Wire Harness (L = 1 m JST VHR-2N 1 = Red 2 = Black)
1 x thermal paper (58 mm Width x 50 mm Diameter)
1 x Thermal Paper Roll Holder
Documents:
The Printer with Roll Paper Inserted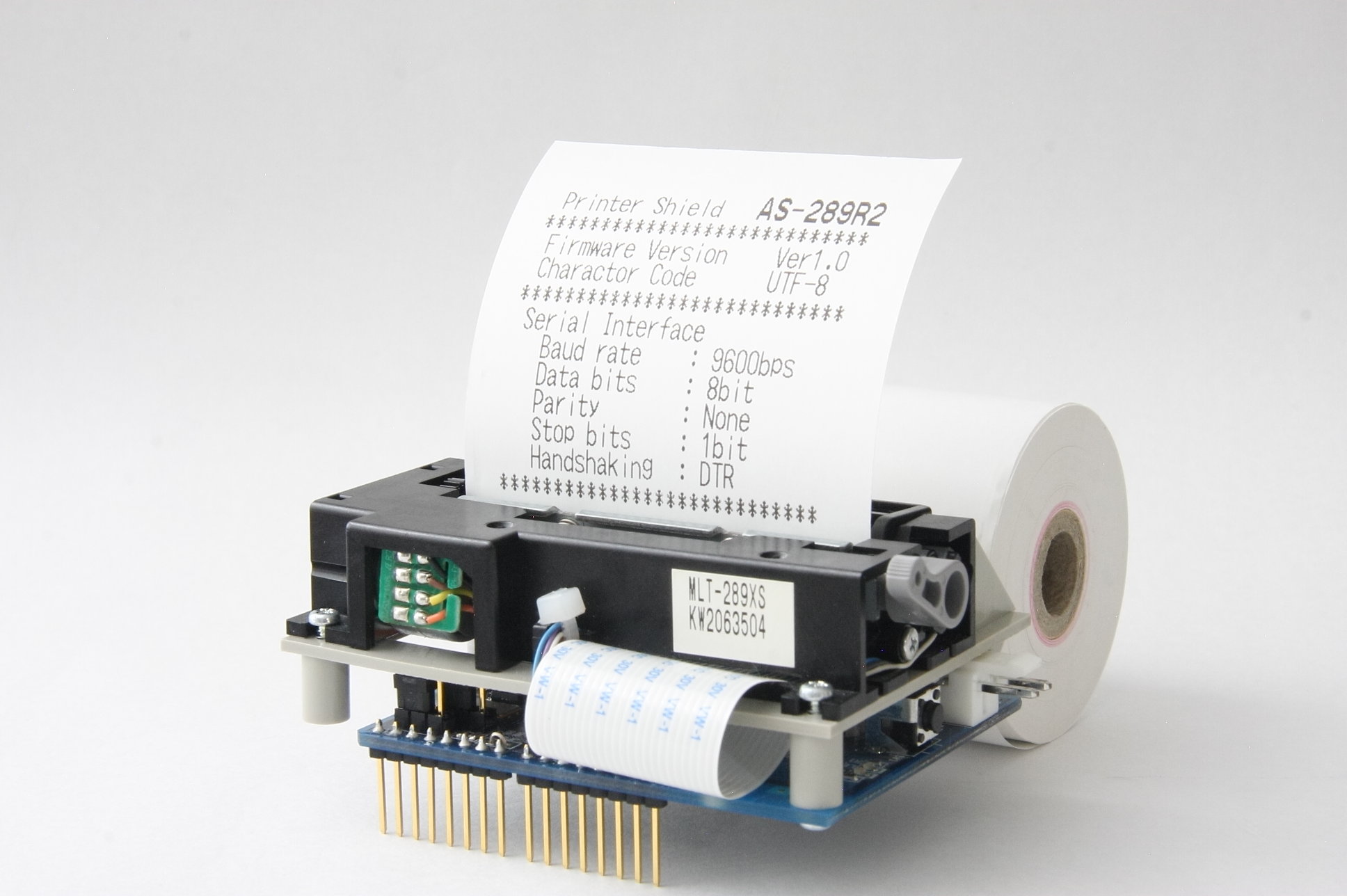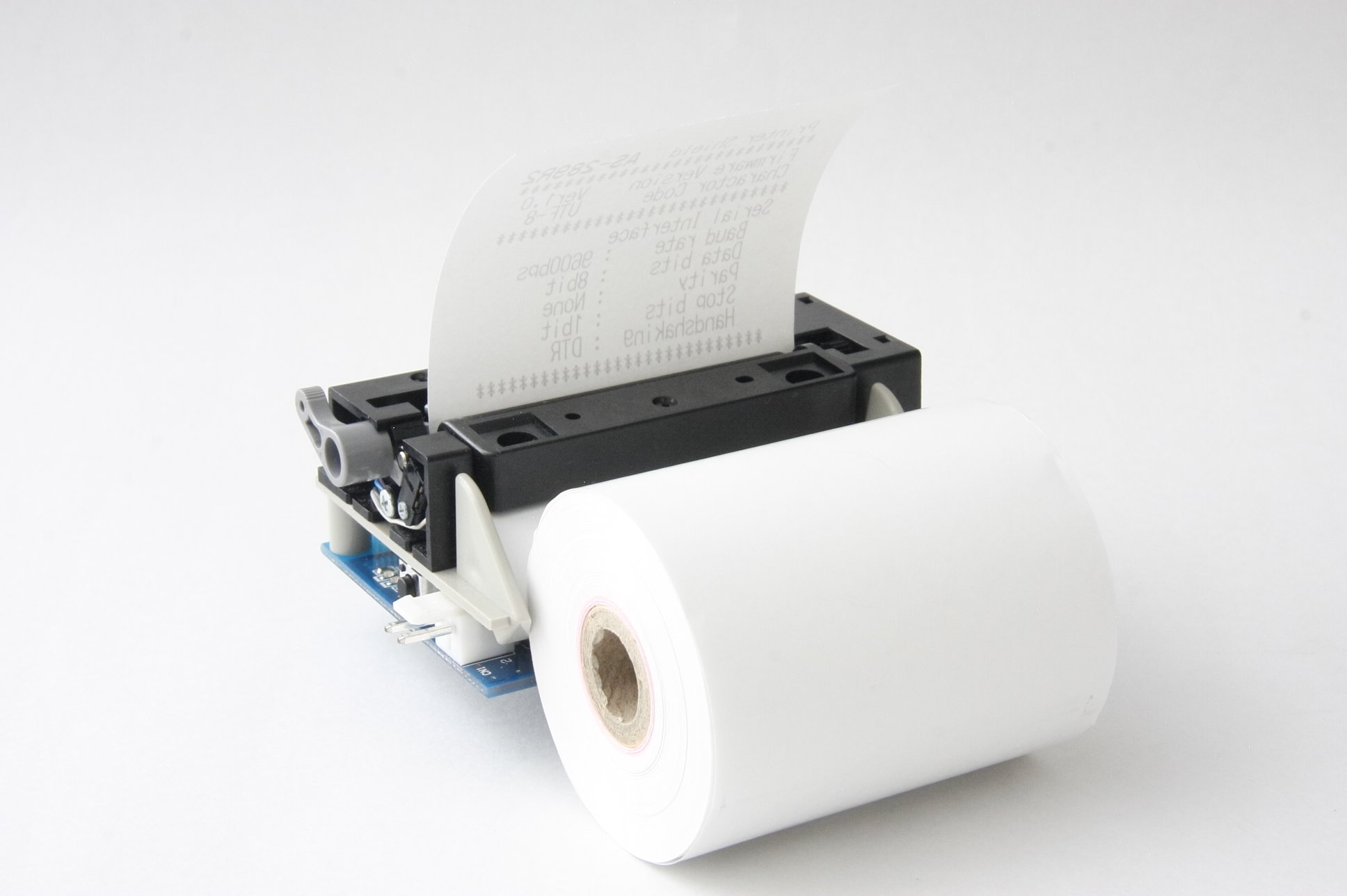 Related Product
The Arduino Uno is a microcontroller board based on the ATmega328. It has 14 digital input/output pins (of which 6 can be used as PWM outputs), 6 analog inputs, a 16MH ceramic resonator, a USB connection, a power jack, an ICSP header, and a reset button. It contains everything needed to support the microcontroller; simply connect it to a computer with a USB cable or power it with a AC-to-DC adapter or battery to get started.

Shipping Method:

EMS

Price:

29.95

USD

The Arduino Yún is a microcontroller board based on the ATmega32u4 (datasheet) and the Atheros AR9331. The Atheros processor supports a Linux distribution based on OpenWrt named Linino OS.

Shipping Method:

EMS

Price:

11.50

USD

This item is retired.

The mbed NXP LPC1768 Microcontroller is designed for prototyping all sorts of devices, especially those including Ethernet, USB, and the flexibility of lots of peripheral interfaces and FLASH memory.

Shipping Method:

EMS

Price:

54.50

USD

out of stock