Relay touch board with driver
This is a board that allows you to touch the screen on your smartphone without using your hands. Just place the board on the screen and turn relay to "ON" and the board will recognize its position and convert it to touch mode. The relay driver, will turn to "ON" with just 1.6 mA consumption. Also, you can connect it to Digital output pins from Arduino etc..
You will need to solder wire in advance. Please also prepare thin double sided tape or adhesive conductive sheet to stick the board.
The wire and double sided tape are not included in this product.
The relay will activate by connecting 5 V and GND to power supply and by turning EN pin to HIGH.

Make sure the silver pad is in contact with your smartphone screen.

Features:
Operating Voltage: 5 V
Relay coil resistance: 139 ohm
With a relay driver
Includes
Documents:
Dimensions

Example of use
By attaching relay touch board on shutter, and moving it in correspondence to the blink on the Arduino, you will be able to release the shutter regularly. Please see footage below.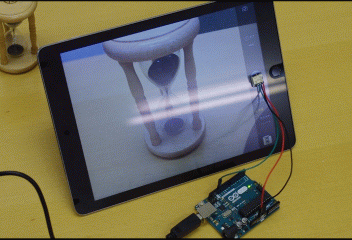 Related Product
We soldered a lead on a board that allows you to touch the screen without using your hands. Because it has a driver for the relay, it allows direct connection to your microcontroller board. Also, components such as crocodile clips can be connected directly.

Shipping Method:

EMS

Price:

8.33

USD