FOR IMMEDIATE RELEASE
Switch Science announces the launch of Scratch Sensor Board "nekoboard2"
Tokyo, JAPAN — May 16, 2016 — Switch Science Inc., launches nekoboard2, a sensor board that can be combined with MIT's Scratch programming language. Scratch is a free educational programming language designed for children.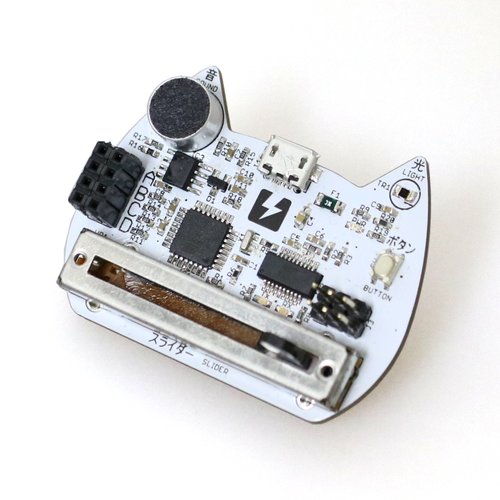 Product information
| SKU | Name | Price | Release date |
| --- | --- | --- | --- |
| SSCI-027007 | nekoboard2 | 28.00 USD | May 16, 2016 |
Product details
The nekoboard2 is a sensor board that can be combined with Scratch, a free educational programming language for children. Nekoboard2 incorporates a light sensor, sound sensor, a button, and a slider and can sense electrical resistance through 4 additional inputs via included Micro USB cables.
The product name nekoboard2 was taken from the Japanese word "neko", which means a cat. And everyone knows that the Scratch's mascot is a cat.
Switch Science had its previous version launched as nekoboard in 2012. This nekoboard2 is launched as a successor product of nekoboard. While the previous nekoboard was compatible with only Scratch software version 1.4, the nekoboard2 is compatible with both 1.4 and 2.0, the current major version of Scratch programming language. This cat-shaped small nekoboard2 is suitable not only to introduce Scratch programming to children, but also for anyone who is new to the world of programming and DIY electronics projects.
What is Scratch?
Scratch is a programming language developed for children to program and share interactive media. By using block-based programming, Scratch users can, for example, move a character on the screen or produce sound. For more information, please see the Scratch website https://scratch.mit.edu/about/
Availability
The nekoboad2 will be available at https://international.switch-science.com/catalog/2700/
About Switch Science
Founded in 2008, Switch Science is a developer, manufacturer, and retailer of open-source hardware, electronic modules, components, and kits for DIY electronics projects. With the goal of making electronics creations accessible, understandable, easy to handle for everyone, Switch Science provides over 1500 items online. Learn more and view the entire lineup at https://international.switchscience.com/
Contacts
Switch Science, Inc.
Media: press@switch-science.com
Distributor: reseller@switch-science.com
Others: international@switch-science.com